The "Cittadella"
Pro Civitate Christiana had its beginnings in Assisi in December 1939, when a priest from Milan, Don Giovanni Rossi, with a group of collaborators, founded Pro Civitate Christiana, an association of Christian apostolate with the aim of "contributing to making the soul of one's time, evangelizing in social life, with the spirit of Saint Paul the Apostle, our Lord Jesus Christ, in filial obedience to the Holy See and the Episcopate" (from the Statute of the PCC).
At Christmas of the same year it was canonically approved as an association of Christian apostolate by the bishop of Assisi, Msgr. Giuseppe Placido Nicolini.
In 1945 it was recognized as a legal person by the Italian State.
Diffusion
At the end of the war the "Cittadella" began its activity of spreading the evangelical word through missions carried out by volunteers in various Italian cities, together with activities of Christological and editorial studies with the diffusion of the magazine Rocca born in 1941, followed by the courses of Christian studies and conferences on topics relating to faith and the Christian world. Theologians, philosophers, intellectuals and authorities in some way attributable to the most open and dialoguing sector of the Catholic world participate in these study conferences, including Ernesto Balducci, Tonino Bello, Lucio Lombardo Radice, judge Antonino Caponnetto, Franco Fornari, the Cardinal Michele Pellegrino, Giorgio La Pira, Rocco Chinnici, Sabino Acquaviva, Franco Garelli, Roger Garaudy, Piero Bargellini, Cesare Angelini, Giulio Girardi, Vittorino Andreoli, Raniero La Valle, Enzo Bianchi, Paolo Giuntella, Luigi Ciotti, Alberto Maggi, Giannino Piana , Giancarlo Bregantini.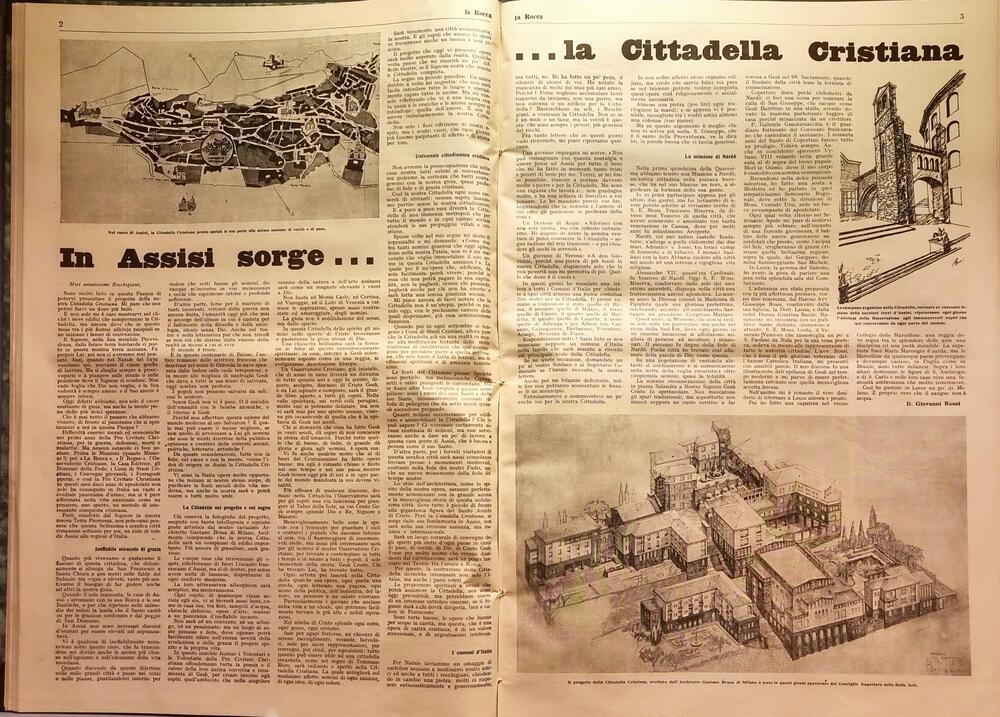 In the following two decades the community grew, also thanks to donations from some individuals, including the generous ones from the industrialist Furio Cicogna, which allowed the expansion of the buildings with the construction of an auditorium, a building dedicated to the library and a collection of modern sacred art in which, above all thanks to donations from private individuals and the artists themselves, numerous paintings and sculptures especially dedicated to Christological aspects have been found, including numerous paintings inspired by the figure of Jesus Divine Worker.
Institutionalization
On 7 December 1959, Pro Civitate Christiana received recognition from John XXIII as a subject of pontifical right within the universal Church.
At the beginning of the sixties, Pier Paolo Pasolini took part in a conference organized for film-makers. Nighttime he completed the reading of the Gospel, found on a bedside table in his room in Cittadella, and found inspiration for the movie The Gospel according to Matthew, which he will make with the assistance of some Volunteers (as the members are called) of Pro Civitate Christiana itself.
During 1968 and the years to come, the Cittadella became a reference center for the Catholic left after the annual university conference, the XXIII, which took place from 27 to 30 December 1968. Today, a variety of events are held at the Cittadella, initiatives, including conferences, seminars and two schools: Music Therapy and Art Therapy.